Who is Student Loan Professor?
Today's graduates face unprecedented debt levels which often outpace their starting salaries. Many young professionals start their careers with very high debt-to-income levels. One of the most important steps toward financial independence for anyone with student loan debt is the strategic navigation of the currently available loan repayment and forgiveness programs.
That's easier said than done, however, as programs evolve constantly and are overly complex. Combined with a graduate's busy schedule, and the conflicts that exist among lenders and servicers, there is a glaring need for an advocate who can support early-career professionals. Student Loan Professor (SLP) fills this void.
SLP partners with colleges, universities, medical schools, residency programs, employers, and national associations to provide education and resources to thousands of students and graduates each year. We offer hands-on support for individual borrowers to ensure that the proper strategies and concepts are executed on an ongoing basis.
Formerly known as Doctors Without Quarters (DWOQ), SLP has specialized knowledge for medical students and graduate health professionals. In the physician realm, over 25,000 medical school graduates enter training annually in the US. Most of these newly-minted doctors begin their residencies with over $200,000 in federal student loan debt with an average interest rate of over 6%. Medical training can last anywhere from three to eight years with an average salary starting around $60,000. We can help you manage your debt so you can focus on your passions and achieving your goals.
We are tireless scholars of the student loan marketplace so you don't have to be!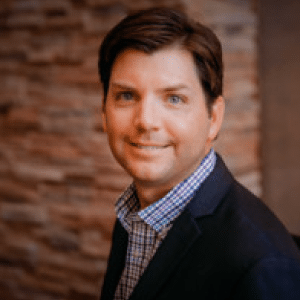 Brandon Barfield
Director and Co-Founder
Brandon Barfield is the Director and Co-Founder of SLP/DWOQ and is nationally known as student loan expert for graduate health professions. Since 2011, Brandon has given over 500 loan repayment presentations for schools, hospitals, and medical conferences across the country, and is regularly requested to present at some of the nation's most prestigious institutions. He also serves as a consultant for employers looking to incorporate loan repayment into their recruitment strategies and compensation packages.
Previously, Brandon was a Financial Aid Supervisor at Kaplan University, worked in financial planning for The Henssler Financial Group, and served as an Enlisted Officer in the US Army. He earned a BBA in Finance from Kennesaw State University, as well as an MBA from Kaplan University. With his diverse background in financial aid, financial planning and student loan advisory, Brandon has a broad understanding of the intricacies surrounding student loans, loan repayment strategies, and how they should be considered when physicians make other financial decisions. On the weekends Brandon can usually be found spending time with his family, attending church, or enjoying the Georgia outdoors.
Jason DiLorenzo
Founder
Jason DiLorenzo is the Founder of Doctors Without Quarters. After leading the company for five years he now serves as an outside consultant. Since 2010, Jason has served as an expert lecturer and panelist for schools, hospitals and partners on the increasingly complex and evolving topic of student loan debt best practices and federal loan legislation. During his tenure, Jason has educated tens of thousands of graduates on student loan best practices, and he's recognized as a thought leader in the student loan space, regularly appearing in the media as a borrower advocate.
Jason graduated with a BBA in Finance from Stetson University, and serves on the Board of his local Boys & Girls Club. When he's not advocating young health professionals, Jason loves to be outdoors, and his ping-pong game is on point. Challenge him to a game when he visits your institution, if you dare…
Greg Rupp
Senior Consultant and Team Leader
Greg Rupp is our Senior Loan Consultant and leads our advisory team. Joining DWOQ shortly after our inception in 2015, Greg has become an invaluable member of our team and helped thousands of graduates with their student loans. He is renowned for crafting strategies for complex couples' cases, getting loan servicers to fix their mistakes, and finding solutions to tough problems no one else can solve. When it comes to student loans, Greg is a Jedi Master!
Graduating from the University of Missouri, Greg founded an independent college planning firm in the St. Louis area. For 23 years he helped thousands of families with ACT/SAT Prep, college admissions, financial aid forms, scholarships, student loans, and establishing financial plans to pay for college. Greg resides in Dardenne Prairie, MO with his wife and 3 children. In his down time, you might find him on the golf course, hanging out with his family watching Cardinal Baseball, or out back smoking some BBQ.
Jacob Duren
Student Loan Consultant
Jacob Duren is a Student Loan Consultant and is also training to become an Institutional Relationships Manager. He is a graduate from the University of Missouri – St. Louis School of Business, holds multiple securities licenses, and has a strong financial background. A natural people person, Jacob enjoys connecting with his community through philanthropy as well as building relationships with his clients. So he fits in great here at Student Loan Professor and enjoys helping clients manage their student loan debt while taking away the stress that if often brings.
In his free time, Jacob enjoys being active outdoors. You can find him camping in the Ozarks, hiking, or kayaking the rivers of Missouri. Jacob also enjoys cooking and DIY projects.
Farrell Chatwell
Student Loan Consultant
Farrell Chatwell serves as a Student Loan Consultant on our team. Calling on 5+ years working various student loan roles at Mohela, he is well-known to be an encyclopedia when it comes to student loan rules and regulations. Farrell also has invaluable experience dealing with loan servicers, which really comes in handy when they are being less than helpful!
Farrell is a US Air Force veteran who used his GI bill to attend Howard University, majoring in business finance. In addition to being a supervisor at Mohela, he also has over 10 years of experience with credit assessment/development, and can deploy insightful strategies to help those who are struggling with credit issues. Farrell and his wife co-founded a transitional home for women in Boonville, MO where he facilitates job training/retention, budgeting, credit development and computer training classes for the women. Originally from St Louis, his passions are the St Louis Cardinals and all things Marvel!
Charles Wilbers
Student Loan Consultant
Charles Wilbers serves as a Student Loan Consultant on our team. He continually earns high praise from his clients for being very personable and helpful. With over three years of experience working in various departments at MOHELA, Charles is no stranger to student loans and has been a strong complement to the team from day one. Not only is Charles knowledgeable whenever it comes to student loans, he is also a licensed Realtor in the state of Missouri. If you want to talk renting vs buying, Charles is definitely your guy!
Originally from the Lake of the Ozarks, Charles now resides in Saint Louis, MO. You can find him enjoying his free time training barrel horses, out on the lake with family, at the gym, traveling, or flipping houses. Charles is excited to share his knowledge with clients and assist with their student loan success!
Cynthia McGallagher
Operations Manager
Cynthia McGallagher serves as Operations Manager for SLP/DWOQ. She keeps our database tidy, registrations and payments rolling, and manages the phone and Help inbox. Basically, Cynthia keeps the cogs turning behind the scenes so the rest of the team can focus on client advising, and we couldn't do it without her!
Cynthia has 20+ years of Administrative Assistance in the Financial Industry, as well as several years of retail management experience. She's a wife, mother of four grown children, and "Glam"ma of six grandchildren. A Rabid St. Louis Blues Hockey & Alabama Football Fan, she regularly clashes with Brandon (a diehard GA Bulldog) throughout football season!
Student Loan Professor partners with dozens of schools, teaching hospitals, other employers, and national associations to provide education and support to thousands of students and graduates each year. We are tireless students of the
student loan marketplace

so that you don't have to be.
Introduction To Income Driven Repayment Plans Student loan headlines have been...
read more
If you would like to explore offering any of these resources to your students, residents, or employees, please contact Brandon Barfield at