Doctors Without Quarters is Now Student Loan Professor
SLP helps borrowers manage debt effectively. We offer affordable payments, minimize out-of-pocket expenses, and provide a reliable repayment strategy.
Our partnerships with schools helps graduates manage student debt responsibly through accurate, relevant, engaging, and strategic content.
We understand the challenges those in residency face, but our specialized knowledge can serve this demographic specifically.
Based on their tax structure, employers have access to a range of options to assist employees with student loan repayment options, benefiting both parties.
Student Loan Professor (SLP) educates and advises students and graduates, helping them navigate the ever-changing and overly complex world of student loan repayment and forgiveness.
Originally founded in 2015 as Doctors Without Quarters (DWOQ), we recently rebranded to better convey our expertise: we assist anyone with student loan debt, regardless of their degree or profession. We help borrowers understand the continually evolving loan repayment and forgiveness programs so they can manage their debt in a way that complements their careers, while also maximizing savings along the way. We don't look at student debt in a vacuum; rather, we provide you with custom recommendations in the context of your liquidity needs, financial profile, career path, and overall goals.
We are tireless scholars of the student loan marketplace, so you don't have to be!
Since our inception in early 2015, we have helped over 10,000 graduates design loan repayment strategies which work for them! Some of the techniques we leverage include strategic use of Income Driven Repayment (IDR) plans, Public Service Loan Forgiveness, the National Health Service Corp LRP, and private refinancing. We introduce borrowers to the programs that are most applicable for their unique financial situation, explaining the nuances of each along the way. We can forecast monthly, annual, and total payments, compare the costs and savings of each, and answer questions you probably don't even know to ask.
Our primary goal is saving your money, but we also want to educate you along the way so you fully understand all your options and the strategies available for you. If loan forgiveness or IDR plans are the path we choose together, we will help you complete the forms. If refinancing is the way we go, we support you by shopping out quotes from different lenders. We serve as your advocate through the entire process. We are the only student loan advisory firm (that we know of) who actually takes a hands-on approach to help borrowers refinance.
Annual Service and Consultations
We provide you with a comprehensive review of your existing loan portfolio, an analysis of current and future liquidity needs, and the development and implementation of an action plan designed to maximize savings. This service also includes unlimited access to your dedicated SLP advisor, whether it be via email, phone, or meeting in person.
Loan Refinancing Analysis
SLP will analyze your Federal and/or private loan portfolio to determine if refinancing is suitable. If appropriate, we'll introduce you to qualified lenders, serve as your advocate during the underwriting process, and assist you in the selection of a payment/term. There is no cost for this service. Borrowers benefit from SLP's marketplace knowledge and leverage, and may be eligible to receive a bonus from the lender.
We offer in-depth student loan seminars for schools, residency programs, hospitals, employers, and professional interest groups. These instructive seminars are available live or via webinar. Our proprietary content includes best practices for student loans, basic financial literacy, loan marketplace and legislative updates, and case studies for specific borrower demographics. We are also available for "office hours" around or in lieu of group presentations.
Doctors Without Quarters is the best investment I've made since graduation. They've saved me over $20,000 so far and have provided excellent support.
P. Valaika, PT, DPT
Charles Wilbers is a great resource. I came into the conversation with a good background in accounting/finance practices. The way he explained the consolidation process and future options was sound. He is an active listener and caught all my questions. This is what I expect of DWOQ and he delivered 10/10. Thank you!.
Hugh Alley, D.O.
I just wanted to drop a quick note to say that my loans were forgiven/discharged in April under PSLF! Big thanks to you, Farrell, for helping me consolidate last summer under the waiver. You noticed I had some additional months of work under the waiver which moved up my timeline for forgiveness. What a relief as I'm growing my family and life (expenses) continues to happen! Plus, I think I might like my job more now that the 'pressure is off'. I wish I had you guys earlier at the end of med school and early residency, but I try to mention your service when I do come across trainees. It's really an outstanding resource.
Catherine M., M.D.
Jacob did a fantastic job with my consultation. My case is a bit unusual, but he tackled it extremely well and took every little curveball in stride. He answered all of my questions, ran lots of projections for different scenarios, and worked with me systematically to figure out the best approach and strategy. Jacob also graciously took the time to walk me through the steps of what I needed to do to apply for loan consolidation and REPAYE. Ultimately, I'm really glad that I opted to get a consultation with you guys at DWOQ and grateful that Jacob was able to help me out and guide me through the process, particularly given how complex my circumstances are. Thank you!
Curtis Wong, M.D.
Student Doctor Kuzel and myself are LMU-DCOM Class of 2019's President and Vice President and would like to express the sincerest thank you for spending time with us last night on the webinar. We've heard nothing but amazing comments from our colleagues about how useful, informative, and well-versed your presentation was. You took time to destigmatize our debt, specifically those with higher amounts of debt than the national average. Through examples, spreadsheets, and resources, you allowed for our class to engage and become further educated in our future loan forgiveness. We cannot wait to meet with you and your consultants as you make your way to Harrogate during our graduation week. The thoughtfulness and drive behind Doctors without Quarters was seen in your passion to aid us along the way. Thanks again for your time, patience, and efforts during last night's webinar and all the works that have gone into our graduation week consultations.
LMU-DCOM Class of 2019's
President and Vice President
Doctors without Quarters is a phenomenal business which provides a service that I greatly needed at this point of my career, finishing fellowship and starting my career as an attending physician. A life saver for me, DWOQ was able to make a complicated process much more simple as they know exactly what they are talking about. For today's physicians with significant student loan debt in a very complicated student loan environment, Doctors Without Quarters makes this process manageable and much more straightforward. DWOQ will save me a large sum of money. I give my highest recommendation to use DWOQ for any physician with student loans.
Jonathan Mongold, D.O
The end of medical school is a really exciting time, but it's also extra stressful when you start hearing words like 'exit loan counseling' and 'consolidation'... so I sought out guidance from DWOQ. They did a phenomenal job with my consultation by giving me a really clear step-by-step approach for my particular situation and made me feel at ease by answering all the questions I had. It feels awesome to know that there is someone that I can trust and is knowledgeable on my side!
Alexander Nguyen, UC Davis SOM
I had Doctors Without Quarters visit my school for an educational seminar. The information provided complemented my exit counseling, and the feedback from the students was very positive.
Cheri Marks
Student Financial Aid and Student Records MU School of Medicine
Ever since working with Greg, he not only took the time to explain the dizzying loan terminology to me, but also to my parents. He has been very patient and supportive! Additionally, he has been very organized and extremely educated on medical student loan debt. I fully appreciate all of his hard work and I can confidently say that this $250 dollars was a great investment and worth every quarter!! I am extremely happy with the service he has provided through your company! He is a great representative and I have already recommended your company to my other resident physicians!
Anne Evans, M.A. D.O
Gregg was excellent. No nonsense. Made great use of our time together and gave me a clear vision forward from medical school into residency regarding loan repayment options relative to my financial situation. Look forward to working with him in the future and highly recommend DWOQ services.
Ryan Zimmerman, DO
The appointment was SO SO helpful. Farrell, thank you so much. You are a wealth of information, and we feel so much more prepared to make decisions moving forward.
M. Rose, MD
Attending Physician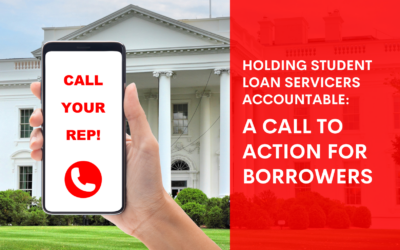 This is a call to action. Until there is more outside pressure applied to the loan servicers, things are not going to improve anytime soon. They need to admit they have system issues, communicate with their customers, and provide educated and honest solutions to their problems.  
read more
Get SLP Blog articles delivered to your inbox
If you're like us, you probably hate your personal inbox getting clogged with unwanted emails. But we don't intend to bury you with junk, so don't worry. We typically roll all of our recent stories into one monthly newsletter. You will also receive a few emails related to SLP/DWOQ services over a 6-month period, then those will drop off. Unsubscribe at any time.